Passengers who choose a Qatar Airways trip to Doha are treated to a first-rate journey that is characterised by a number of essential features. These include first-rate service, modern conveniences, and the benefit of Doha's superior hub status for connecting flights. Qatar Airways has established a respectable reputation for its luxurious cabin accommodations, a wide range of in-flight entertainment choices, and extensive flight network. As a result, it is the chosen airline for passengers heading to Doha. By choosing Qatar Airways, a company renowned for its dedication to aviation quality, you can be confident that your trip to the vibrant capital of Qatar will be both comfortable and thoroughly entertaining.
Introduction About Qatar Airways Economy Class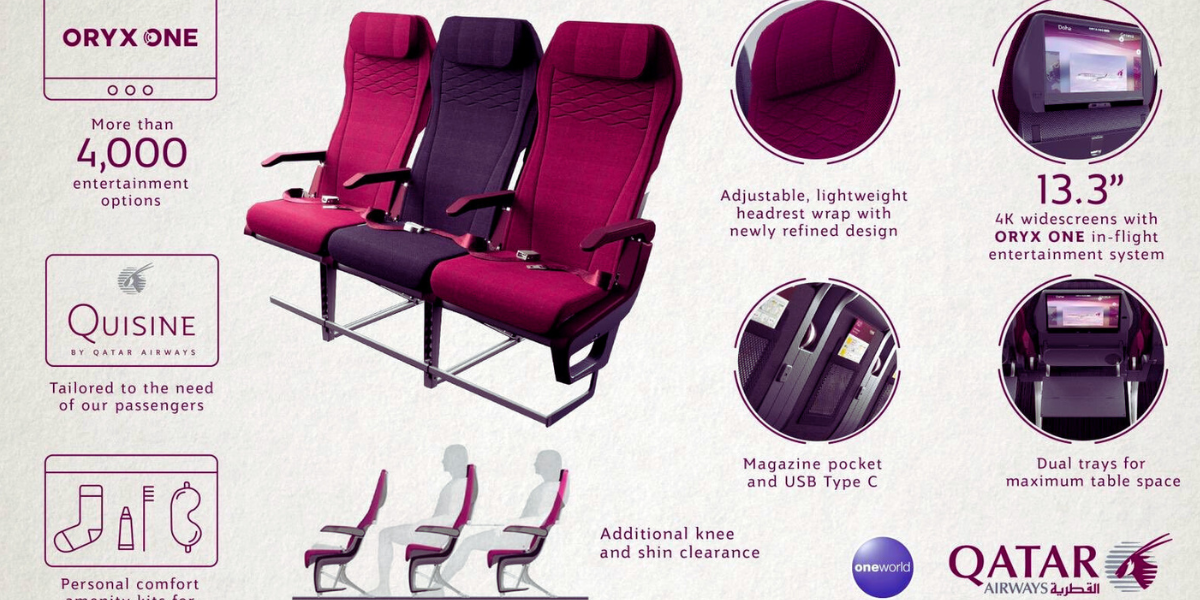 Qatar Airways is getting ready to provide a new economy-class seating experience, but eager travellers must be patient. Read Below:-
Creative Seating Concept: Contrary to prior rumours that the new economy class chairs would have staggered configurations, they do not. Their unique design, which allows the seat to recline by advancing the seat pan and lumbar area within a fixed shell, makes them stand out.
Italian craftsmanship: These seats are made by Optimares, a renowned Italian firm that specialises in aviation seating.
Enhanced Recline: Passengers can take advantage of a semi-fixed back shell that enables them to comfortably recline the seat from a 6-degree take-off and landing position to a maximum 19-degree recline without bothering the passenger behind them.
Advance Entertainment: Impressive 13.3-inch 4K in-flight entertainment screens and USB Type-C connectors with quick charging are include with the new seats.
Better Connectivity: With "up to 10 times faster broadband" promised for customers, Qatar Airways plans to improve connectivity drastically. The Oryx One in-flight entertainment system from Qatar Airways offers more than 4,000 possibilities so passengers can anticipate a wide range of entertainment selections.
Improved Dining and Service: In addition to the new economy seats, travellers may expect improvements in the menu selections and level of service. These improvements, implemente months before the new seats are offer, will include additional options and larger serving sizes.
Read Also: Qatar Airways First Class
This improvement in the economy class travel experience demonstrates Qatar Airways' dedication to giving customers a more relaxing, pleasurable, and technologically sophisticated trip.
Inflight Inclusions, Amenities, and Seat Specs:-
Economy Class
Qatar Airways has been vigorously pushing its upcoming economy class makeover, promising passengers a variety of compelling improvements, even though it has yet to be formally launch. Modern seats with a 19-degree recline angle are among them; they are made to be more comfortable without taking up more room for the passenger behind you. Additionally, passengers can anticipate more legroom as well as the comfort of a large 13.3-inch 4K screen for in-flight entertainment. Although a debut date has not yet been set, interested passengers should follow updates for this fascinating invention!
Qatar Airways is setting higher standards in terms of amenities:
On a few long-haul flights, customers will experience the industry's widest economy-class seats, significantly boosting their travel comfort.
To provide a cosy and peaceful trip, passengers can anticipate receiving a warm blanket and pillow.
On specific long-haul flights, passengers will receive an amenity kit, enhancing their onboard experience with an added level of comfort and convenience.
Qatar Airways aims to please your palate with complimentary snacks, meals, and beverages, including alcoholic selections (the number of meals may vary depending on the length of the journey).
Every seat will have a personal screen connected to the Oryx One entertainment system, which provides a wide range of entertainment options.
Keep your devices charge and ready to use using laptop and USB power charging ports to be connect and productive throughout your travel.
Passengers have access to free Wi-Fi for at least 30 minutes, and those who book directly with the airline have the option of limitless Super Wi-Fi on some flights.
Passengers can anticipate a more comfortable and enjoyable flight with Qatar Airways as a result of this plan improvement, which is poise to transform the economy-class flying experience. Watch for more information regarding its official launch to be announce.
Qatar Airways Economy Class Seat Fees
Selecting your seat is a factor that frequently enters your mind while making a reservation with Qatar Airways. For travellers flying in Economy Class, Qatar Airways offers a number of alternatives for selecting their seats, albeit some of these options may incur additional costs. The details of Qatar Airways' Economy Class seat charges are provided below:
Free Seat Selection: Qatar Airways provides free seat selection for several fare classes because they recognise its importance to passengers. With Economy Value and Flexi ticket pricing, passengers can often select their seats without paying an additional fee. It offers a degree of comfort and flexibility without costing more.
Preferred Seats: Qatar Airways offers Preferred Seats for those who have particular seat choices. These seats are typically found in the best sections of the Economy Class cabin, like up front for a speedier embarkation or by the window for a more excellent view.
Preferred Seat Conditions: Studying the prerequisites for selecting Preferred Seats is essential. These terms may contain eligibility requirements and particulars pertaining to the selection procedure. For instance, up to 72 hours prior to the departure of a journey, some airlines may permit customers to select Preferred Seats.
Seat Selection Procedure: The airline's Website or mobile app can select a seat at the time of booking or later. Before making a final decision, passengers can browse the available seats, pick their preferences, and review any applicable fees.
Fee Transparency: Qatar Airways is generally open and honest regarding seat pricing, making it simple for customers to comprehend the expenses involved with their selections.
How To Book Qatar Airways Economy Class Seat?
The procedure of reserving an Economy Class seat with Qatar Airways is simple and may be done online or through a variety of booking methods. The following steps will show you how to reserve a seat in Qatar Airways' Economy Class:
Go to the "Qatar Airways website" first.
Choose your flight by entering the cities of departure and arrival, the number of passengers, and the dates of travel. To see the choices, click "Search Flights."
Choose your preferred Economy Class tariff type based on your preferences and financial constraints.
You will be require to choose your seat throughout the booking process. Now is the time to select a seat.
For an additional cost, you may have the option to select a Preferred Seat if you have a preference for a specific seat, such as one with more legroom or close to the front of the cabin.
Review your booking information after choosing your seat before making a payment.
Finish the transaction by providing your payment information.
You will receive a booking confirmation and assign seat information after your payment is receive successfully.
On the Qatar Airways website or mobile app, go to the "Manage Booking" section to choose or modify your seat after making a reservation.
If a seat is available, you can choose it when you check in at the airport on the day of your flight.
You may quickly reserve your chosen Economy Class seat with Qatar Airways by following these easy steps, and you can travel in comfort. FlightsAssistance.com is a comprehensive and user-friendly online resource that meets the needs of travellers by offering a wide range of necessary services and knowledge about flying.