Aer Lingus Check-in: Are you planning a trip with Aer Lingus? One of the first things you'll encounter on your travel day is the check-in process. While it might seem like a mundane task, getting your check-in right sets the tone for your entire journey.
In this comprehensive guide, we'll walk you through everything you need to know about Aer Lingus check-in procedures, from online check-in to airport kiosks. So, let's buckle up and dive into the world of stress-free check-ins!
Aer Lingus Check-in Times: Making Time for a Smooth Start
When you're jetting off from Dublin Airport, you're in for a treat – the onward check-in service. This nifty feature lets you drop off your baggage and obtain your boarding pass the day before your flight. Talk about making the most of your time! Here are the key details you need to remember:
Service Availability: Onward check-in is available daily.
Operating Hours: You can take advantage of this service between 15:00 and 19:00.
Eligible Flights: This service is available for flights departing the following day between 04:30 and 20:00.
Evening Before Check-in Deadlines: Dublin and Cork Airports
Before you indulge in dreams of adventure, it's crucial to meet the evening-before check-in deadlines. For Dublin and Cork Airports, Aer Lingus sets these deadlines to ensure a smooth flow of operations. Here's the lowdown:
Dublin Airport: Make sure to complete your check-in and drop off your bags between 16:00 and 20:00 on the evening before your departure.

Cork Airport: If you're flying out of Cork, the check-in and bag drop-off window is between 16:30 and 20:30 on the evening before your flight.
Same-Day Return Check-in: A Dublin Delight
Are you planning a quick round-trip from Dublin Airport? Aer Lingus has got your back with the same-day return check-in option. Here's how it works:
Complete your outbound check-in before leaving.

Keep your boarding pass handy during your trip.

Upon your return to Dublin Airport, head straight to the security checkpoint – no need for additional check-in.
How to Check in Online with Aer Lingus: A Few Clicks Away
Gone are the days of long airport queues for check-in. Aer Lingus offers a user-friendly online check-in process that's as easy as pie. Here's how you can breeze through it:
Online Check-in Process: Simplified Steps
Visit the Website: Open the

Aer Lingus website

on your computer or mobile device.

Retrieve Your Booking: Enter your booking reference and last name to access your reservation.

Choose Passengers: Select the passengers you're checking in.

Seat Selection: Pick your favorite spot from the available seats.

Print or Save: Download your boarding pass or print it for your convenience.
Passengers Not Eligible for Online Check-in
While online check-in is a boon for most travelers, certain situations require in-person check-in. Here's when online check-in won't cut it:
Unaccompanied Minors: Young flyers traveling alone need to check in at the airport counter.

Special Assistance: Passengers requiring special assistance should proceed to the airport counter for a smooth experience.

Group Bookings: If you're traveling in a group of more than nine people, head to the counter for check-in.
How to Check in with the Aer Lingus Mobile App: Travel Made Easier
In the age of smartphones, convenience is just a tap away. The Aer Lingus mobile app empowers you to manage your journey with ease. Here's how you can wield the power of the app for seamless check-in:
Download the App: Install the Aer Lingus app from your app store.

Access Your Booking: Log in and find your reservation.

Navigate to Check-in: Locate the check-in option within the app.

Choose Your Seats: Select your preferred seats for the journey.

Retrieve Boarding Pass: Once check-in is complete, your boarding pass will be available in the app.
How to Check in at the Airport Self-Service Kiosk: FastPass to Adventure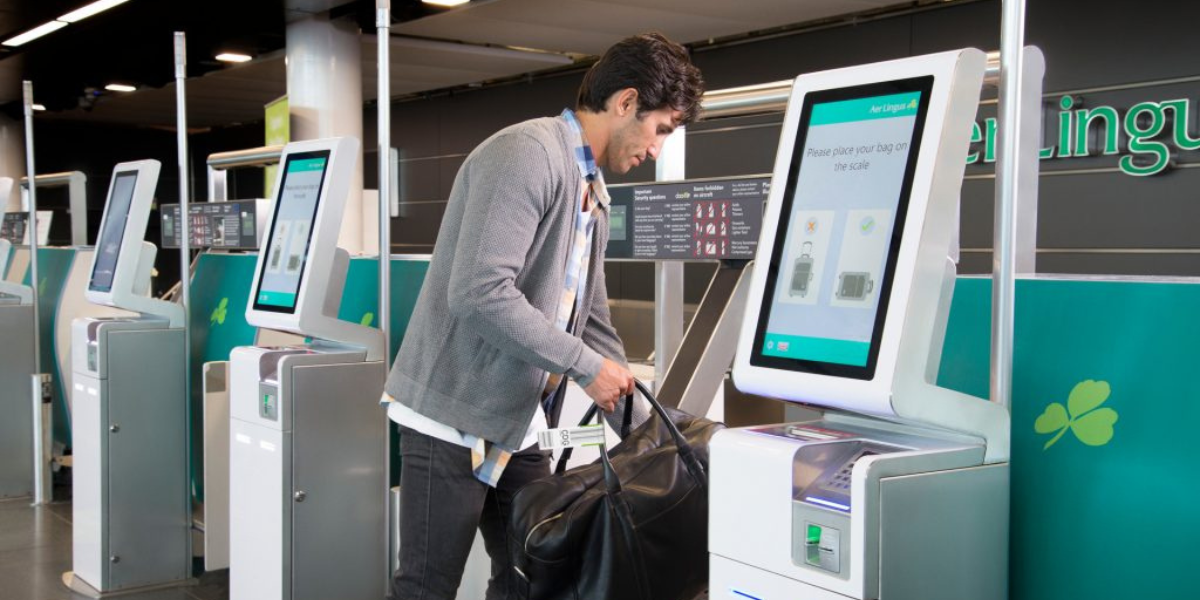 If you're all about efficiency, the airport self-service kiosk – aptly named FastPass Check-in – is your ticket to swift check-in. Let's break down the process:
Locate the Kiosk: Find the FastPass kiosk at the airport.

Identify Yourself: Use your booking reference or scan your passport to access your reservation.

Follow the Prompts: The kiosk will guide you through seat selection and baggage check-in.

Collect Your Boarding Pass: Your boarding pass will be printed or sent digitally to your phone.
How to Check in at the Airport Counter: The Classic Approach
Sometimes, the old ways are the best ways. If you prefer a face-to-face interaction, the airport counter is where you need to be. Here's what to expect:
Arrive Early: Ensure you have ample time before your flight.

Gather Your Documents: Have your passport, booking reference, and any necessary travel documents ready.

Speak to an Agent: Approach the Aer Lingus counter and provide your details.

Baggage Drop-off: If you have checked baggage, this is the time to hand it over.

Receive Boarding Pass: Once checked in, you'll receive your boarding pass.
Conclusion
Navigating the check-in process sets the tone for your journey, and with Aer Lingus, it's a breeze. Whether you opt for the convenience of online check-in, the speed of the mobile app, or the classic approach at the airport counter, you're in good hands. Remember, a stress-free check-in is the first step to a memorable travel experience. So, embrace the options, prepare your documents, and get ready to take off hassle-free with Aer Lingus.
FAQs
Q1: Can I check in online if I'm traveling with an infant?
Yes, you can! Online check-in is available for passengers traveling with infants. However, if you require any special assistance, it's advisable to check in at the airport counter.
Q2: Can I change my seat after completing online check-in?
Absolutely! Aer Lingus allows you to change your seat even after online check-in. You can do this through the website, mobile app, or at the airport kiosk.
Q3: Is the mobile app available for both iOS and Android?
Yes, the Aer Lingus mobile app is available for both iOS and Android devices. Simply visit your respective app store to download and install it.
Read Also:-